Many people are unfamiliar with what actually takes place during a worship service in a chapel of The Church of Jesus Christ of Latter-day Saints. Research also shows that there are many people who feel that they are not welcomed inside an LDS chapel to worship with Latter-day Saints to be able to observe for themselves that Mormon worship is focused on the Lord Jesus Christ.
This is often the basis for misunderstandings among communities where Latter-day Saints live and leads many to believe that the close-knit ties of the Latter-day Saint community is both clannish and secretive. Part of this misconception may be caused by the differences between worship services in LDS chapels and temple worship. All are invited to attend services in LDS chapels, but only those members of The Church of Jesus Christ who are deemed worthy and hold a valid temple recommend are permitted to enter the sacred temple – the House of the Lord.
The infographic below is an excellent comparison of worship in an LDS chapel and temple worship.
Additional Resources:
You are invited to worship with a local LDS congregation
"Mormons" re
fers to members of The Church of Jesus Christ of Latter-day Saints (inadvertently called the "Morman Church" by the media). However, Mormon was actually a person that lived in the ancient Americas and died approximately A.D. 400. He abridged the writings of many ancient prophets into a book called The Book of Mormon: Another Testament of Christ (Introduction). This book was translated in modern times by the prophet Joseph Smith in the 1820's. Because others aren't as familiar with our beliefs they may be surprised to learn that "Mormons" are in fact Christians and that Christ is the center of our beliefs. In reality, members of the Church of Jesus Christ follow Him.
Mormons are Latter-day Saints
Another informal name for members of the Church of Jesus Christ includes "Latter-day Saints [LDS]". Members of the LDS church live worldwide. I myself have met many faithful members in Mexico, Costa Rica, Italy, Spain, England, and Switzerland. It doesn't matter where members live because the church is the same and led by the same Head: our Master Jesus Christ. The current living prophet (Thomas S. Monson) is President of the LDS church who leads Christ's church by revelation and with God's authority.  Elder Quentin L. Cook (modern Apostle of Christ) answered:
What does it mean to be a Saint? In the Lord's Church, the members are Latter-day Saints, and they attempt to emulate the Savior, follow His teachings, and receive saving ordinances in order to live in the celestial kingdom with God the Father and our Savior Jesus Christ (See 2 Nephi 9:18 &  "Are you a Saint?" Ensign, October 2003).
Mormon are Christians
Barely over half of U.S. citizens believe that Latter-day Saints are Christians compared to almost 100% of LDS members polled (Executive Summary: "Mormons in America: Certain in Their beliefs, Uncertain of their Place in Society", Pew Research Center's Forum on Religion & Public Life, January 12, 2012). The LDS Church teaches that Jesus Christ is the Son of God.
The Church of Jesus Christ of Latter-day Saints teaches from the scriptures and revelations from modern prophets who testify of Christ. Ancient prophets in the Americas wrote:
And we talk of Christ, we rejoice in Christ, we preach of Christ, we prophesy of Christ, and we write according to our prophecies, that our children may know to what source they may look for a remission of their sins (2 Nephi 25:26).
Modern prophets testify that, "happiness in family life is most likely to be achieved when founded upon the teachings of the Lord Jesus Christ ("The Family: A Proclamation to the World," 1995)." I have found true joy and happiness as I've patterned my life after the gospel of Jesus Christ.
As followers of Christ, we believe in His teachings and strive to be Christlike. The apostle John wrote that Jesus taught "For I have given you an example, that ye should do as I have done to you (John 13:15)." The apostle Paul advised us to "be thou an example of the believers, in word, in conversation, in charity, in spirit, in faith, in purity (1 Timothy 4:12)." The Prophet Joseph Smith (modern prophet) stated:
We believe in being honest, true, chaste, benevolent, virtuous, and in doing good to all men; indeed, we may say that we follow the admonition of Paul—We believe all things, we hope all things, we have endured many things, and hope to be able to endure all things. If there is anything virtuous, lovely, or of good report or praiseworthy, we seek after these things (The Articles of Faith 1:13).
The LDS young women (aged 12-18) work towards developing the 8 values of faith, divine nature, individual worth, knowledge, choice and accountability, integrity, and virtue (Young Women Personal Progress). Modern prophets ask the missionaries to develop the Christlike attributes of faith, hope, charity, love, virtue, knowledge, patience, humility, diligence, and obedience (Preach My Gospel, 2004, p. 126). I have noticed a difference in my life as I've tried to develop these Christlike attributes and follow Jesus' example-I am happier and more willing to help those around me.
 Additional Resources:
Read about "The Word of God".
Order your free Book of Mormon
Read about the "Pew Study on Mormons in America"
by Jan
A recent news story told of an artist who travels the United States gathering information about fallen soldiers and painting portraits that "capture" the personality of the person. Once completed, he presents the artwork to grieving families as a tribute to their loved one. In this case, he visited an elementary school and gave the beautiful portrait to the soldier's young son. With gratitude, the youngster told the artist it would help him remember how his dad lived.
While we cannot bring back those who have passed on, we frequently honor them with posthumous awards or some type of tribute.
In a similar way, members of The Church of Jesus Christ of Latter-day Saints (often called "Mormons" or LDS) honor deceased family members by performing baptisms for the dead. Taken literally, the phrase may conjure up morbid pictures, but in reality, it means that a living person is baptized on behalf of someone who has died. Names of the deceased are taken to a Mormon temple, where the baptisms are performed.
Jesus Christ taught that "except a man be born of water and of the Spirit, he cannot enter into the kingdom of God" (John 3:5).
But for those who have died, baptism (being born of water) is impossible. Latter-day Saints ("Mormons") believe that God loves all His children equally and that families can be together forever. This means the entire family line—past and present. Through genealogical research, ancestors are located and the names of family members are taken to the temple by their progeny.
Baptism for the dead allows each person the blessing of receiving the gospel of Jesus Christ through a proxy baptism. However, it is the decision of the deceased to accept or reject the ordinance (baptism). There is no forcing of anyone to accept a baptism they do not want.
Mormons believe that during the period between the death of Jesus Christ and His resurrection, He visited those spirits who had previously died. He taught them the plan of salvation or plan of happiness, allowing them the opportunity to embrace it or to turn away. Free choice—free agency—is a vital Mormon doctrine.
Christ explained that the gift of immortality was given to all men on earth because of His sacrifice on the cross and His resurrection (1 Corinthians 15:22). He told them that before birth, each person lives as a spiritual child of God. This is called the pre-existence or pre-mortal existence. But progress is limited without having a mortal body; for this purpose, man is born. The physical body forgets life as a spirit and must find God and choose to follow His teachings to be part of His kingdom.
At death, the spirit returns to the spirit world. Those good people who have not had the chance to learn, accept, and live the gospel on earth are instructed and decide whether or not to embrace the teachings. They will rest from care and sorrow but will only be able to progress when the physical ordinance of baptism (baptism for the dead) is completed for them. The wicked will suffer at this time, but will be given the opportunity to accept the doctrines of repentance, forgiveness, and salvation through the atonement of Jesus Christ.
Every person who has ever lived will be resurrected—body and spirit reunited. All will be brought before the judgment bar of Jesus Christ and judged for their actions. Based on their actions, they will be assigned to the Celestial, Terrestrial or Telestial Kingdoms, or Outer Darkness.
Those righteous who have endured faithfully, trusting in Jesus Christ and repenting of their sins will be exalted. This includes those whose first opportunity to hear the gospel is in the afterlife. Through the process of exaltation, a person can eventually become like Jesus Christ, or as it is expressed in scripture, a joint-heir with Him (See Romans 8:17).
Baptism for the dead follows the pattern described in the New Testament. Paul asked, "Else what shall they do which are baptized for the dead if the dead rise not at all? Why are they then baptized for the dead?" (1 Corinthians 15:29).
As in ancient times, baptisms are done by immersion, as they were when Christ was baptized. Mormon children are baptized at the age of eight—usually in meetinghouse fonts—but baptisms for the dead can only take place in a Mormon temple. Names taken to the temple should only be submitted by direct descendants of the deceased person for whom the proxy baptism is done.
Baptismal fonts in Mormon temples rest on the back of twelve oxen, representing the twelve tribes of Israel. The words of the ordinance for baptisms for the dead and a baptism for a living person are almost identical, and the baptisms themselves are identical. Latter-day Saints believe in baptism by immersion, just as Jesus Christ was baptized. This act symbolizes the death, burial, and resurrection which each person must go through. It also symbolizes the spiritual rebirth and cleansing of the person being baptized.
The service given in temple work such as baptism for the dead is a completely selfless act and allows the person serving to feel very close to the Lord.
Additional resources:
Why do Mormons perform baptisms for the dead?
LDS Newsroom: Church policy for baptisms for the dead
Lutheran bishop's perspective on Mormon baptism for the dead
Jan Mayer is a member of The Church of Jesus Christ of Latter-day Saints ("Mormon woman"). Jan is a graduate of BYU and mother of five children. She has written for numerous publications, including The Denver Post, The Villager, and NorthStar.
by Roy
The Mormon priesthood is the power and authority of God. It is the power that governs the universe and which puts everything in order. It is the power which God used in the creation of all things.
In The Church of Jesus Christ of Latter-day Saints (commonly known by people as the Mormon Church), the priesthood is conferred upon worthy male members of the Church beginning at age 12. The Mormon priesthood is one of the vital elements and one of the fundamental evidences of the true church. It is used to direct the administration of the ordinances of the gospel, the preaching of the gospel, and the government of the kingdom of God on Earth.
The Mormon priesthood is also used to bless the sick and those who are afflicted physically, mentally, emotionally, and spiritually. It is used to comfort family members in times of great trials. The effictiveness of the blessings of the Mormon priesthood is dependent on the faithfulness of the beneficiary.
Priesthood keys are the authority God has given to priesthood leaders to direct, control, and govern the use of His priesthood on earth. The Mormon priesthood is divided into two parts: the Aaronic Priesthood and the Melchizedek Priesthood.
The Aaronic Priesthood is the lesser priesthood. It includes the keys of the ministering of angels, the gospel of repentance, and baptism by immersion for the remission of sins. In The Church of Jesus Christ of Latter-day Saints, worthy male members are given responsibility to hold this priesthood beginning at age 12. Those who hold the Aaronic Priesthood may be authorised to administer the outward ordinances of baptism and the sacrament. (See Doctrine and Covenants 13:1; 84:26–27 and 107:14.)
At different stages in the lives of Mormon priesthood holders, and as they prepare themselves to receive different responsibilities, men and young men hold different offices in the priesthood, such as deacon, teacher, or priest in the Aaronic Priesthood and elder or high priest in the Melchizedek Priesthood.
The Melchizedek Priesthood is the higher or greater priesthood. It is present and functional whenever the Church of Jesus Christ is upon the earth in its fulness. "It was first called the Holy Priesthood, after the Order of the Son of God. But our of respect or reverence to the Name of the Supreme Being, to avoid the too frequent repetition of his name, they, the church, in ancient days, called that priesthood after Melchizedek, or the Melchizedek Priesthood" (See Doctrine and Covenants 107:3–4). Melchizedek was a great high priest who lived in the time of Abraham. Worthy male members ages 18 and older are given the responsibility to hold the Melchizedek Priesthood. All people are entitled to the blessings of the priesthood as long as they are worthy and faithful, male and female. One remarkable thing about the priesthood is that it cannot be used on oneself. It is a power given through service. While any faithful male may receive the blessings of the priesthood, if he is given a blessing, he cannot participate in giving that blessing; the blessing must come from other worthy priesthood holders.
The Church of Jesus Christ of Latter-day Saints believes that the Priesthood of God was restored to the earth after centuries of great apostasy (or turning away of the people from the truths of the gospel taught by the Lord Himself). In the year 1820, a boy named Joseph Smith received a vision of the Father and His Son Jesus Christ telling him that the gospel would be restored to the earth in its fullness. The restoration of the priesthood was part of that restoration. On May 15, 1829, in fulfilment of the revelation, John the Baptist appeared and restored the Aaronic Priesthood to Joseph Smith and Oliver Cowdery. Not long thereafter, Peter, James, and John appeared and restored the Melchizedek Priesthood to the same two men.
Concerning the Mormon Priesthood, the Lord said in revelation to the Prophet Joseph Smith, "No power or influence can or ought to be maintained by virtue of the priesthood, only by persuasion, by long-suffering, by gentleness and meekness, and by love unfeigned; By kindness, and pure knowledge, which shall greatly enlarge the soul without hypocrisy, and without guile" (Doctrine and Covenants 121:41–42).
Additional Resources:
Roy Patrick is currently working as a Call Center Agent in the Philippines. He served a full-time mission in San Francisco, CA. His family is one of the pioneers of the LDS Church in Panay Island, Philippines.
by Tiffany
A couple of years ago while pushing two little boys in a stroller while exercising, my then three-year-old son asked me, "How come Jesus doesn't never ever come to our church?" I was taken aback. I didn't quite know how best to answer him.
Was he doubting Jesus' reality because he had never seen him? Or was he wondering why Jesus got a free pass to skip church and he didn't! Of course, it was a fairly valid question—at least to a three-year-old. But how could I help him understand Jesus' reality, when in all actuality we have never seen him?
As a member of The Church of Jesus Christ of Latter-day Saints (often mistakenly called the Mormon Church), I have been blessed with a strong belief in Jesus Christ. I'm not sure there has ever been a time in my life when I didn't have a solid understanding in the reality of Jesus Christ.
As a result of my life-time belief in Jesus Christ, it is mind-boggling for me to hear of people questioning whether or not Latter-day Saints (or "Mormons") are Christians. Jesus Christ is the central figure in our belief system. We believe Jesus Christ to be our Savior and Redeemer. We believe in that same Jesus Christ millions know from the Bible. From the Old Testament prophecies of his coming, to the New Testament describing his mortal life, we consider the writings sacred scripture. Furthermore, we believe the Book of Mormon to be a another testament of Jesus Christ. We believe the same Jesus Christ that walked the streets of Galilee is the same Jesus Christ that visited the Americas.
Growing up in England, we did religious studies in school. I remember being a young, eight-year-old school child with an assignment to draw our depiction of the "Easter story." I remember distinctly drawing Jesus' cross atop a hill on a decorated Easter-egg-shaped piece of construction paper. The children around me drew similar interpretations. Sure, I may have been the only Mormon in the school class, but it didn't make a difference. We were learning about the same Jesus.
Additionally, as a young child growing up, my best friend was of a different faith. In her home hung a crucifix, whilst my home had nothing of the sort. Yet, when I taught her the words to a popular Mormon children's song, we were able to sing confidently together; it didn't matter our religion, we both believed in Jesus and we both understood the simple admonition we were singing that came from Jesus Himself, "As I have loved you, love one another."
I have never seen Jesus Christ. Like millions of other Mormons, I live by faith. With a combination of scripture, personal experience, and promptings from the Holy Spirit, I feel the reality of Jesus' love, His comfort, His guidance, and His mercy.
Back to my three-year-old's pressing question, "How come Jesus doesn't never ever come to our church?" I'm fairly certain I didn't answer his question accurately, but I did what I thought was best at the time. I stopped my stroller and there on the over-grown city trail, I briefly yet firmly told my little three-year-old that I knew Jesus was real. I told him I knew Jesus was born a baby in Bethlehem. I told him that he walked the streets of Jerusalem teaching and blessing the people. I told him I knew Jesus died on the cross at Calvary, and ultimately rose after the third day. I told him that I know Jesus lives and we will see him again.
I used three-year-old's language and fit it all into a short three-year-old's attention span, wrapping it up with a one sentence ending about faith. "Even though I have never seen Jesus, I know that Jesus is real."
It was and is a simple, yet fervent declaration of my faith.
Additional Resources:
Tiffany Sowby is a mother of five and member of The Church of Jesus Christ of Latter-day Saints ("Mormon" woman). She tries to find humor, joy and contentment in the little things life has to offer.
The Church of Jesus Christ of Latter-day Saints (often mistakenly referred to as the "Mormon Church") places a great deal of importance on members doing their personal genealogy, or family history. This has become a lucrative business worldwide, for companies such as ancestry.com, but the resources The Church of Jesus Christ of Latter-day Saints are vast, free, and available to the public.
Latter-day Saints are encouraged to do their personal family history, tracing their lineage back as far as they possibly can. People not associated with the "Mormon Church" are suddenly also finding a burning desire to know more about their roots. This is an exciting time. Millions of records—birth certificates, death certificates, wedding licenses, census documents, etc.—which the LDS Church has access to are being digitized so they can be made even more widely available. This will enable people in one country to access whatever information the LDS Church has available in other countries without the expense of travel. This is very exciting.
Why is such an emphasis placed on Latter-day Saints doing their family history? The answer lies in an ancient prophecy found in the Old Testament: "Behold, I will send you Elijah the prophet before the coming of the great and dreadful day of the Lord: And he shall turn the heart of the fathers to the children, and the heart of the children to their fathers, lest I come and smite the earth with a curse" (Malachi 4:5–6). Latter-day Saints have learned through further revelation that this prophecy means that Elijah held the priesthood keys to bind families together forever, that these keys will be restored, and that they are essential to the salvation of the world.
Joseph Smith was called of God to restore the fulness of the gospel of Jesus Christ to the earth in 1820. He organized The Church of Jesus Christ of Latter-day Saints, under the direction of Jesus Christ and with His authority, on April 6, 1830. Previous to the organization of the Church, Joseph was given the keys of the priesthood from those who last held them on the earth: John the Baptist restored the Aaronic Priesthood (or lesser priesthood which was given to the children of Israel), Peter, James, and John restored the Melchizedek Priesthood (or higher priesthood), and Elijah restored the keys of the sealing power.
The keys of the sealing power are only used in temples. Thus, today, Mormon temples are the only places where the sealing powers can be accessed. When a couple is married in a Mormon temple, they are sealed together, binding them together for eternity (depending upon their faithfulness in keeping God's commandments), rather than ending with the death of one of them. If the couple is faithful, any children born to them after their sealing are also sealed to them. This means that families can be bound together, across generations, for eternity.
Temples have not been widely available across time. Billions of people have been born who never had the chance to hear about the gospel of Jesus Christ. However, all ordinances must be performed on the earth, and the participant must have a body. This is impossible for all those who died without baptism. This is why Latter-day Saints do work by proxy in Mormon temples for those who died without the opportunity to receive sacred ordinances.
Latter-day Saints are encouraged to do the work for their personal family members for as far back as they can find records. This allows deceased ancestors the opportunity to choose for themselves whether or not to accept those ordinances. If they do accept them, they can continue in their eternal progression. If they reject them, they will not be able to continue in their progression, but at least they have a choice. No person whose work is done for them in a Mormon temple are forced to accept that work.
Mormon genealogy, or Mormon family history, has many benefits. In addition to being able to serve deceased family members, individuals also learn of sacrifices made for future generations. They can also connect to people in their history they may not have had an opportunity to meet, but who still had an influence in their lives.
Additional Resources:
Find a Family History Center near you
By Amy Choate-Nielsen
Deseret News
Published: Sunday, Jan. 15, 2012 7:00 p.m. MST
David Letterman knows how to get a laugh.Like most comics, he riffs on the day's news, deadpans the camera and revels in audacity."Oh, did you hear about this?" the host of CBS' Late Show with David Letterman asked his audience recently. "A campaign staffer on the Newt Gingrich campaign was fired because he was making negative comments about Mormons. I thought, now, wait a minute — isn't Newt in favor of multiple wives?"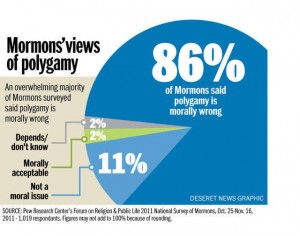 Laughter rumbled from the audience followed by applause. The polygamy punch line is a familiar one when it comes to poking fun at Mormons — as though Mormons and polygamy are synonymous in mainstream media. Ironically, the practice that's most linked to Mormons is a practice most Mormons oppose, according to a groundbreaking new study of Mormons in America released Thursday by the Pew Research Center's Forum on Religion and Public Life.
According to the study, members of The Church of Jesus Christ of Latter-day Saints unequivocally reject polygamy — only 2 percent said the practice is morally acceptable — evidence of a yawning gap in what Mormons believe and how they are perceived. Mormons' opinions are overwhelmingly conservative, the study shows, but in many ways, their views are also surprising — especially when it comes to opinions on moral issues, divorce, homosexuality and polygamy. Read more
A recent The Pew Research Center's Forum on Religion and Public Life conducted an in-depth survey of Mormons in the United States. Mormon is a nickname sometimes used to describe members of The Church of Jesus Christ of Latter-day Saints. The fourth article in a series that appears in Deseret News is evaluating the results of this survey and providing context for the results.
Immigration is a controversial topic in the United States. The survey asked one question on this topic. They were asked which of two statements most closely matched their view, even if they didn't completely agree. They were asked whether immigrants strengthen or burden the nation. No distinction was made between legal and illegal immigration, leaving those polled to decide for themselves what the question meant.
In the general U.S. population, 45 percent of Americans feel that immigrants strengthen the country, while 44 percent burden it. 12 percent feel that neither or both are true or they have no opinion on the subject. Mormon views closely mirror these statistics. 45 percent of Mormons also believe immigrants strengthen the nation, although a smaller number, 41 percent, consider them a burden on society. The number of Mormons who accept both or neither or who have no opinion is higher, at 14 percent.
These numbers put them at odds with evangelical Christians, one of the few political areas in which they disagree. Within the white evangelical population, 59 percent believe immigrants are a burden, and 27 percent believe they strengthen the country. Like Mormons, 14 percent answered both, neither, or no opinion.
The statistics for Mormons shows a strong divide based on age, income, and education, as well as on religious commitment. Only 36 percent of highly committed Mormons see immigrants as a burden, while 50 percent of those who are less committed see them as a burden. This largely correlates with economic status. 84 percent of Mormons who are highly committed to their religion are college graduates. (The church strongly encourages Read more
Of all the numbers in the Pew Research Center's recently released survey of "Mormons in America," the highest, most overwhelming numbers are these: 98 percent of respondents said they believe in the Resurrection of Jesus Christ, and 97 percent say their church is a Christian religion.
This comes on the heels of earlier surveys indicating that 32 percent of non-LDS U.S. adults say the LDS Church is not a Christian religion, and an additional 17 percent are unsure of LDS Christianity. The theological and semantic reasons for this can be complex, but for the 1,019 self-identified Mormons who participated in the Pew survey, their theological position is clear: Mormons believe in Jesus Christ, and they consider themselves to be Christian.
"Certainly in Latter-day Saint theology is this idea that if you understand who you are, you understand that there's a purpose in life, you understand your connection to God, that certainly has an impact on how you live your life and what you do, but also how you feel about your life and what you are doing," said Michael Purdy of the LDS Church Public Affairs office.
For the vast majority of Latter-day Saints surveyed, those life choices have much to do with their religious beliefs. Eighty-two percent of survey respondents indicate that religion is "very important" to them, 83 percent say they pray every day and 77 percent say they attend church at least once a week. Beyond that, a stunning 69 percent of respondents fit all three descriptions, saying that religion is very important to them, that they pray every day and that they go to church every week.
"By this measure," the report says, "Mormons exhibit higher levels of religious commitment than many other religious groups, including white evangelical Christians."
Part of the explanation for these high numbers may be that the survey focused only on those who self-identified as Latter-day Saints.
"The method they used tended to identify people who are strongly committed," said BYU sociologist Marie Cornwall , who advised the Pew Forum on the new survey. "They don't have the people who are kind of marginal. But that's okay; we just have to be careful with the way we interpret the findings."
One such finding is the relationship between religious commitment and education among Mormons.
David Campbell, a University of Notre Dame associate professor and another adviser on the survey, noted that the more educated respondents were, the higher their levels of religious commitment.
"I was a little surprised by that," said Campbell, who is LDS and who has extensively studied on the role of religion in the public square. "The more educated a Mormon is, the more likely they are to be wholehearted in their commitment to the church and its teachings."
That is different from other churches, he said, where more education tends to lead to more religious skepticism.
Pew Research Center officials also noted "a significant gender gap in religious commitment, with more Mormon women than men exhibiting a high level of religious commitment (73 percent vs. 65 percent)."
According to the Pew report, a similar "gender gap" is seen among the general public. A 2007 survey found 36 percent of U.S. women exhibited a high level of religious commitment, compared with 24 percent of men.
One series of questions asked about what it means to be a good Mormon. According to the respondents, in order to be a good Mormon it is "essential" to believe Joseph Smith saw God the Father and Jesus Christ (80 percent), work to help the poor (73 percent), hold regular family home evenings (51 percent), not drink coffee and tea (49 percent) and not watch R-rated movies (32 percent).
Combining those who said "essential" with those who said "important but not essential," the order changes a little bit: working to help the poor (97 percent), holding regular family home evenings (96 percent), believing Joseph Smith saw God the Father and Jesus Christ (93 percent), not drinking coffee and tea (81 percent) and not watching R-rated movies (79 percent).
"I think that result is rather interesting," said Cornwall. "Mormons are known for not drinking coffee or tea and not watching R-rated movies. But compared to believing that Joseph Smith saw God and working for the poor, Mormons don't seem to focus on the coffee and tea as much as people probably think."
Other manifestations of religious commitment in the survey included:
The number of respondents (65 percent) who say they hold a current temple recommend (a certificate from local ecclesiastical leaders, issued every other year, indicating that an individual has permission from the church to enter LDS temples and participate in temple rites and sacraments)
The number (79 percent) who say they pay tithing (donating 10 percent of their income to the church)
The number (27 percent) who have served full-time missions for the church (this number includes 43 percent of men and 11 percent of women and varies significantly according to the age and education of the respondent, as well as whether or not the respondent was raised Mormon)
The number (82 percent) who keep food in storage for emergencies or disasters, as they have been counseled to do by LDS Church leaders (This number includes 23 percent who say they have three months' worth, 35 percent who say they have more than three months' worth and 23 percent who say they have less than three months' worth)
The percentage who pay tithing is especially interesting to break down. According to the survey tabulations, "tithing is most common among Mormons with the highest levels of religious commitment (96 percent) … fully 91 percent of college graduates say they pay tithing … compared with 66 percent of those with a high school diploma or less education. And among those whose family income exceeds $30,000, 83 percent say they pay tithing, compared with 69 percent of those with incomes of less than $30,000."
While previous surveys have clearly established LDS agreement with certain key Christian doctrines — 90 percent of Mormons believe in God, 91 percent believe the Bible is the word of God and 98 percent believe in life after death — the new survey explores Mormon confidence in points of doctrine that are unique to LDS theology. And in these points of doctrine, Mormons proved to be unified and believing. They believe overwhelmingly that God and Jesus Christ are separate physical beings (94 percent), that the president of the LDS Church is a prophet of God (94 percent), that families can be bound together eternally in temple ceremonies (95 percent) and that the Book of Mormon was written by ancient prophets and translated by Joseph Smith (91 percent).
Overall, 77 percent say they believe "wholeheartedly" in all of the teachings of the LDS Church. That number increases to 82 percent among Mormons ages 18-49, and to 85 percent among Mormons who are college graduates.
"Ultimately, I suppose other Americans will judge our church — and perhaps all churches — by their relevance in how they touch and improve human lives right here on Earth as well as what they offer in the life to come," wrote Michael Otterson, Public Affairs director for The Church of Jesus Christ of Latter-day Saints, in his "On Faith" blog in the Washington Post. "Meanwhile, we welcome the friendship and regard of all groups, even as we retain our commitment to a unique identity. In the end … Latter-day Saints will strive to be good Mormons, true believers, kind neighbors and faithful friends.
Pew Study Reflects Mormons' Religious Commitment to Christ, Mormon Beliefs in Tithes and Temples
In 1847, John Wentworth, editor of the Chicago Democrat, wrote Joseph Smith, founder of The Church of Jesus Christ of Latter-day Saints (commonly called the Mormon Church) and asked him what Mormons believed. There was a great deal of prejudice at this time against the Mormons, and Joseph Smith took the opportunity to share with someone willing to ask what the truth was about Mormons, their beliefs, and their practices. What Joseph Smith shared with Wentworth came to be canonized as scripture in the Mormon Church and is known today as the thirteen Articles of Faith. These are listed below as originally written. However, a brief explanation follows to explain where Mormon doctrine differs from other Christian denominations' doctrine.
1. We believe in God, the Eternal Father, and in His Son, Jesus Christ, and in the Holy Ghost.
Unlike the rest of Christendom, Mormons do not subscribe to the Nicene Creed, or any other creed for that matter. The Creed's definition of the Trinity contradicts Mormon doctrine which states that God is knowable and knows each of us. He has a body of flesh and bone, (as do we, being made in His image). He, Jesus Christ, and the Holy Ghost are three separate, distinct beings who make up the Godhead. Though they are separate in being, they are one in purpose.
2. We believe that men will be punished for their own sins, and not for Adam's transgression.
Mormon doctrine does not teach the belief of Original Sin. Mormon do believe that Adam and Eve transgressed God's law in the Garden of Eden by partaking of the forbidden fruit. The punishment for their disobedience was to be cast out of God's presence and to become mortal. Each of us suffers the effects of both consequences, but both are also rescued from both through the power of the Atonement of Jesus Christ. Through the Atonement, we will all be resurrected and our bodies and souls will be eternall reunited. We will also be brought back into the presence of God to be judged. Thus, we will be judged and punished for our sins, but will suffer to eternal punishment due to Adam and Eve's transgression.
3. We believe that through the Atonement of Christ, all mankind may be saved, by obedience to the laws and ordinances of the Gospel.
The Atonement of Jesus Christ was more than His death and resurrection. He suffered in the Garden of Gethsemane for the sins and pains of all the world. Having been born of God, and thus having an immortal father and a mortal mother, He had the power to give His life. Because He was perfect, He could choose to take upon Himself our sins and pay the price for them. He has taught us that if we keep His commandments and receive all the necessary ordinances of the gospel, including baptism, the intiatory and endowment, and eternal marriage, enduring in faithfulness, we may qualify for the cleansing power of His Atonement and be perfected in Him.
4. We believe that the first principles and ordinances of the Gospel are: first, Faith in the Lord Jesus Christ; second, Repentance; third, Baptism by immersion for the remission of sins; fourth, Laying on of hands for the gift of the Holy Ghost.
The first principle of the gospel of Jesus Christ is to believe that He is the Son of God and the Savior of the world. Once we have that faith, we must exercise it unto repentance for our sins through the power of Christ's Atonement. The first ordinance we must receive to obtain salvation is baptism by immersion, as Jesus Christ Himself was baptized. The symbolism of baptism by immersion includes the death, burial, and resurrection of Jesus Christ and us, through His power. Confirmation, or the gift of the Holy Ghost, is an essential companion of baptism. The first is a cleansing of the body, the second is a cleansing of the spirit. The Holy Ghost is the comforter which Jesus Christ spoke of and cleanses our souls when we have repented. This is the baptism of fire referenced in the New Testament. In addition, the gift of the Holy Ghost (who does not have a body of flesh and bone like the Father and the Son, but is a spirit) allows those who receive it and keep it worthily personal revelation and protection from the Godhead.
5. We believe that a man must be called of God, by prophecy, and by the laying on of hands by those who are in authority, to preach the Gospel and administer in the ordinances thereof.
All ordinances of the gospel of Jesus Christ must be officiated by the priesthood, or the authority to act in God's name. This power was lost from the earth when the Apostles were martyred. Though some individuals held it, the keys and organization of the priesthood were lost. This power was restored by those who last held it on the earth (John the Baptist, and Peter, James, and John) to Joseph Smith and Oliver Cowdery. The prophet of the Lord, of whom there may only be one at a time, holds all the keys and power of the priesthood. Others who receive the priesthood receive authority to perform and officiate certain ordinances, but always under authorization of the leaders of the Mormon Church. In order to preach in the name of God, one must be called by Him and given His power.
6. We believe in the same organization that existed in the Primitive Church, namely, apostles, prophets, pastors, teachers, evangelists, and so forth.
Jesus Christ organized His Church while He was on the earth. This same organization was restored in our day by Joseph Smith, by the power and authority of God. There has been a living prophet ever since Joseph Smith, and there will continue to be until the Second Coming of Jesus Christ. Twelve Apostles also lead the Mormon Church today.
7. We believe in the gift of tongues, prophecy, revelation, visions, healing, interpretation of tongues, and so forth.
The gifts of the Spirit spoken of in the New Testament are evidence that one has the authority to act in God's name. All these gifts come with the priesthood. Since the priesthood has been restored, the gifts of the Spirit have also been restored. Many people testify of their personal experiences with the gift of healing, of tongues, of personal revelation, and many other things. One must have faith in Jesus Christ to receive these gifts. While these gifts must come through the priesthood, they may also be received by people not of the Mormon faith, as long as they are given through the power of the priesthood to someone who accepts Jesus Christ as his or her Savior.
8. We believe the Bible to be the word of God as far as it is translated correctly; we also believe the Book of Mormon to be the word of God.
Many people accuse Mormons of not believing the Bible. While Latter-day Saints believe that there is additional scripture to the Bible, they still accept the Bible as the word of God. However, Mormon doctrine teaches that many plain and precious truths were lost from the Bible when it was officialy compiled by men. In the early days of the Church, there was no such thing as canon. When men took it upon themselves to decide what was and was not the word of God, they took many things away which they no longer understood. This has led to much confusion and contradiction among Christian scholars, even men from the same denominations. Mormons recognize that God never ceases to speak. The heavens are open today, and God speaks through His prophet. The Book of Mormon was brought forth by the hand of God to be a second witness that Jesus is the Christ. It is a record of Christ's dealings with the ancient peoples of the Americas.
9. We believe all that God has revealed, all that He does now reveal, and we believe that He will yet reveal many great and important things pertaining to the Kingdom of God.
In addition to the Bible and the Book of Mormon, Latter-day Saints accept other books of scripture as canon, including the Doctrine and Covenants and the Pearl of Great Price. However, Mormonism is unique in that it has an open canon. Because God continues to speak through His prophet, the prophet may reveal to the world God's will for men. Though God is unchanging, men are not, and we need guidance in different areas at different times. God will continue to reveal His will to His children as long as they listen.
10. We believe in the literal gathering of Israel and in the restoration of the Ten Tribes; that Zion (the New Jerusalem) will be built upon the American continent; that Christ will reign personally upon the earth; and, that the earth will be renewed and receive its paradisiacal glory.
While much of Christianity believes many things in the Bible to be figurative, Mormons believe nearly all things to have both a literal and a figurative interpretation. Mormon
doctrine teaches that the ten tribes of Israel which were scattered before the time of Christ will literally be gathered together again. Latter-day Saints also believe that Jesus Christ lives and that He will come again to the earth in His resurrected form and reign upon the earth.
11. We claim the privilege of worshiping Almighty God according to the dictates of our own conscience, and allow all men the same privilege, let them worship how, where, or what they may.
The history of Mormonism is full of persecution, despite the freedom that the Constitution of the United States offers all people with regard to religion. The Saints were continually denied this freedom as well as the protection of the law when this freedom was denied. Joseph Smith strongly believed in the Constitution and never stopped appealing to the law for aid. Not only do Mormons claim the inalienable right to worship God how they see fit, but they recognize that this freedom applies to others who believe differently than they do.
12. We believe in being subject to kings, presidents, rulers, and magistrates, in obeying, honoring, and sustaining the law.
Though God's law transcends all earthly laws, The Church of Jesus Christ of Latter-day Saints teaches that all people should obey the laws of the land in which they live. No matter what form of government they live in, they should obey the law, as long as it does not conflict with God's law. Mormons are taught to be honorable people in all their dealings, even if certain levels of dishonesty are not illegal. It is important for peaceful society to obey the law and to respect the rights of others.
13. We believe in being honest, true, chaste, benevolent, virtuous, and in doing good to all men; indeed, we may say that we follow the admonition of Paul—We believe all things, we hope all things, we have endured many things, and hope to be able to endure all things. If there is anything virtuous, lovely, or of good report or praiseworthy, we seek after these things.
Above all things, Jesus Christ taught charity and love for all people, even those who persecute you. Mormonism teaches that charity should be shwon to all people. The gospel of Jesus Christ is full of joy, good news, and happiness. Life should be celebrated, and the best things in life should be sought after. Virtuous things should be shared with those around us and we should help build up our communities with such things.